1 (616) 257-6300​
1 (888) 257-6748
Our focus is to help you shrink and prevent leakage within your organization. Our belief, "A dollar retained is more valuable than a dollar recovered."
All claims are 100% vetted prior to submission with 100% claim administration.
​Our Insight 360 deliverable minimizes recurring leakage providing true actionable insight, thus positioning our client to move toward a prevention approach.
Our customized approach combined with vast industry knowledge not only enhances your outcome, but also provides network opportunities with your peers.

Over the years we have created a unique culture. One focused on going the extra mile for our clients to find what was lost and show them ways to improve.
Access to the most advanced analytics in the industry
We've gathered plenty of knowledge throughout our longevity, and we thought it was only fair to share it with you. Check out our downloadable papers or give us a call to learn straight from the source, us.​
A complete holistic view of all aspects of leakage
Years of combined employee experience
of the top hospitals in the country have selected SpendMend as the partner of choice
Years of Industry Leadership
1 (616) 257-6300​
1 (888) 257-6748
In business, financial leakage occurs. At SpendMend, we go beyond traditional audit recovery giving companies visibility to spending across the entire organization, uncovering hidden data, and using industry benchmarks to help get to the root cause of financial leakage and providing a path to prevention – mending future loss.
Years of Industry Leadership
Dollars Retained Are
More Valuable Than
Dollars Recovered.
"SpendMend's innovative process appears to leave no stone unturned and has identified and recovered significant dollars".
Controller // Regional Health System​
Click the images below to open the PDF's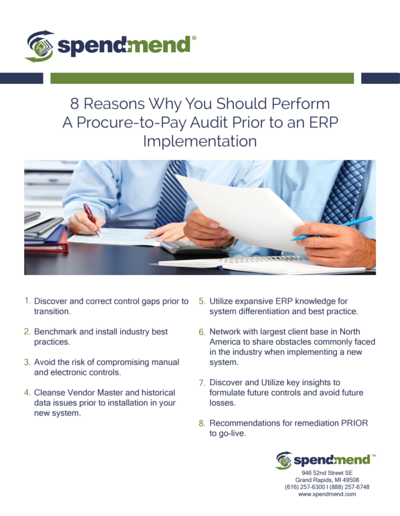 Dollars retained are more valuable than dollars recovered.
Imagine the power of Recovery Audit
enhanced with Spend Visibility​